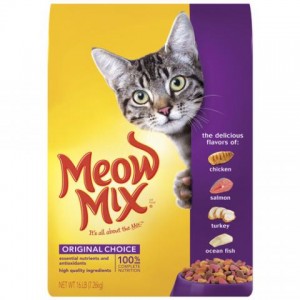 Every cat owner is always on the look out for high quality cat food. And if there's one cat food that no kitty can resist, it's Meow Mix. Why? It's because there is always something new and delightful mixing at their store. Do you want to know what's in store for you and your purring buddy from Meow Mix? Here goes:
1. Tender Centers
This dry cat food offering from Meow Mix is very crunchy on the outside yet tender and meaty on the inside. Plus, it oozes with the tasty mix of fish and meat – something that your kitties will definitely love. It comes in two varieties: Salmon and White Meat flavor and Tuna and Whitefish flavor.
2. Pate Toppers
Do you want premium wet food for your cats? Then this pate will surely make her day. This cat food type comes in the kind of mix, taste, and texture that your cats will enjoy. The richly blended meat is topped with bite size bits of poultry and seafood. It is indeed the food in every cat's dream. This cat food version has a total of six variants in which cat owner can choose from.
3. Meow Mix Treats
If you want to spoil your kitty a little, then give her treats that come in real seafood flavors. These treats are something that your cats will adore, best for their snacks and food cravings in between meals. The treats come in two variants, Go Fish and Ocean Explosion.
Meow Mix Cat Food also offers coupon discounts direct from their website. If you want to purchase any of these exciting cat food choices at a much lower price, just check out their coupon section from time to time and see what's currently being offered. Registration is required. Be the first one to know about all the Meow Mix exciting offers!