You are what you eat. You've heard that a million times, right? There must be some truth to it considering we all know the difference between "good food" and "bad food" and how it can affect the body. Dogs are no different. If they are fed cheap, imitation food, it will affect their bodies and performance poorly. No pet owner wants to see that. That's why we started Preen Pets. We wanted to give pet owners a better option to reward their furry friends with and now, we've got it down to a science.
Dog Treat with Natural Ingredients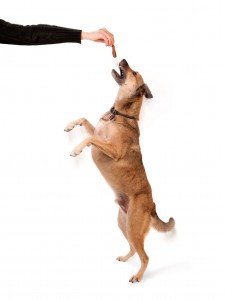 At Preen Pets, ingredients are everything to us. We use only the best of the best of ingredients. How can we say that and be sure? Well, for starters we hand select ingredients from farms of our choice and often only choose products that are specifically made for human consumption. By doing so, we feel 100% confident in the natural treats we are providing. Your dog is a part of your family and we want you to feel comfortable giving your special friend one of our natural treats for dogs. For example, we guarantee you'll never look on one of our boxes for our natural chicken treats for dogs and find something on our ingredient list that you can't pronounce or looks suspicious. We're all natural down to every last ingredient.
A Natural Process
Did you know we make our natural treats for dogs and all natural bully sticks in house? We use our very own facility (right here in the USA) to combine our handpicked, all-natural ingredients into delicious, healthy treats for your pet. We also use a natural preservation method that locks in flavors yet doesn't require the use of any preservatives or artificial ingredients. We can honestly say ALL of our dog treats are free of hormones, steroids, and dyes. Never will you have to second-guess what your dog is chewing on. All of our treats are vet, FDA, and USDA approved.
All Natural Dog Treats Benefit Your Pet
Our all-natural dog treats are designed to help your pet thrive and live a long, healthy life because they are jam packed with nutrients. A lot of other dog treats are just empty calories that your pet is consuming. They're basically the pork rinds of the dog treat world. We'll never be that company. Our all-natural treats contribute to your dog's wellbeing. Whether it be performance wise or physical traits, you'll notice the difference in your pet after making the switch to all-natural dog treats.