June 28, 2015 Dubai, UAE: Posh Pocket Pups partnered with National Aquarium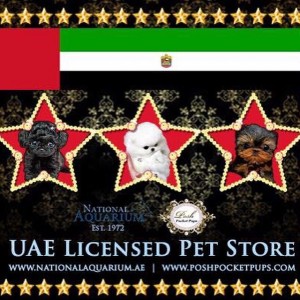 Headquartered in Canada with locations in Los Angeles and Dubai. Want a micro teacup Yorkie? They start at $3800-the catch is first come first serve and some are more fabulous than others!
As experienced pet and business owners for over 20 years, we wanted to offer new puppy owners a true luxury experience and back it with awesome customer service. This serves as the foundation of Posh Pocket Pups. We listen to our clients and our new easy to use website is just one of the ways to show we are.
https://www.poshpocketpups.com
Tiny micro teacup puppies require constant care and specific feeding and monitoring intervals for optimal health. To ensure their happiness, we have "nannies" who are dedicated veterinarian technicians on staff. We personally meet the breeders of all our puppies to confirm ethical breeding practices and have worked closely with most of them over the years to bring happy, healthy and beautiful puppies to our 'Posh Family'