I'd like to share with you an experience that I had in boarding my 10 month old, female Cockapoo named Manuka. We had planned a ten day Hawaiian island tour, which would be the first time we'd be away from Manuka. We had never boarded a dog before, so we weren't totally sure how to go about it. Many of our friends didn't have dogs and weren't experienced with dogs, so we decided not to burden them with the responsibility. We looked online and found several possibilities, but it was impossible to tell anything about the places via their websites.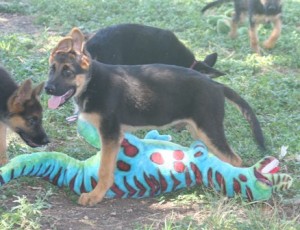 So, we decided to go to Manuka's Veterinarian's office and ask if they had any recommendations. We were very surprised to find that the secretary behind the counter didn't know of any places in the area. However, the women behind us mentioned a place that was not only reasonably priced, but much better than traditional kennels. One woman said, "It's a small place that only takes 15 dogs or so at any given time, and it's half the price of some of the larger well-known Dog Kennels around." She continued, "They let them run around their huge fenced in property. The dogs love it!" This sounded great to us. Manuka would get better attention, exercise, and the odds of contracting Kennel Cough seemed to be lower. We got the information from the women and made a reservation that day.
The day to fly to Hawaii came, and we were on our way to the Kennel to drop Manuka off. We walked in and the front of the place looked pretty nice. There were a couple of very nice large cages, it was clean, and there were only a few dogs barking. The person who took Manuka from us assured us that everything would be fine and that they'd take great care of her. We handed her Manuka's food, said our goodbyes and went to the airport.
Before we knew it our vacation was over, and we were excited to go back to the Kennel and pick up Manuka. We opened the door and no one was there to greet us. We rang the bell for assistance, but no one came to get us. So, in searching for someone, we opened another door to go see if anyone was around. We were shocked with what we saw. This room, that we hadn't seen, contained much darker and smaller cages, it was filthy, brutally hot, and smelled moldy. There was a very dirty sink that had bowls and water dishes piled high. Someone finally came frantically running in: "Sir, you cannot be back here. I will be with you in a moment. Please wait in the lobby." That was the lobby?" I said to my wife.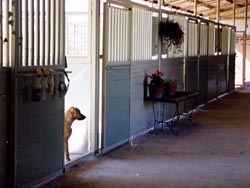 We were both very disturbed by what we saw. To no surprise, Manuka came back to us exhausted, a horsed voice (the dreaded Kennel Cough), had a lot of crust in her eye (which looked infected), and could not, for the life of her, stop drinking water. We swore not to take secondhand advice and tour the next Dog Kennel we would put Manuka in. In searching online, we found that our story wasn't that unique. Many other dog owners had gone through similar distressing situations with their pets too. I urge you to do as much research as possible and see the place yourself.
We discovered that this was not how it had to be! We were thrilled to find Dog Boarding in New Braunfels, TX that we took a look at and loved immediately. Lara's Canine Solutions, located in New Braunfels, TX, has a quiet and beautifully peaceful, country atmosphere. It is very clean, spacious, and charming. More importantly, it is clear to us that they really care about the quality of the dog's stay. They have a temperature controlled environment, so the dogs stay cool in the summer and cozy in the winter. They give their dogs 4-6 hours of monitored outdoor freedom in their gorgeous paddock, and are sure to replenish each dog's water supply constantly (no more dehydration for Manuka!). On top of that, they give your dog a bath and nail trim free of charge. Lara's Canine Solutions also has emergency medically trained staff, so you know your dog is in good hands. The second time we brought Manuka to Lara's Canine Solutions, we instantly saw the excitement on her face. It made leaving her that much easier.