Dogs have been man's best friend for a very long time.
"37-47% of all households in the United States have a dog." – ASPCA (American Society for the Prevention of Cruelty to Animals.
If you're a proud pooch owner then you know how important it is that your dog is not only clean and healthy, but also groomed to perfection. With households in the US spending $6.2 billion on grooming and treats in 2012 according to the American Pet Products Association, it's clear that dog grooming is a market that's on the up.
The latest dog grooming trend that you should be looking to jump aboard is clipping your dog's nails at home. Trimming your dog's nails is normally done by a vet or a dog groomer, but now you can save time and money by clipping them yourself. With a dog nail clipper, you don't have to put your dog through the distress of a visit to the vet but you can still get a clean, precise cut.
Many owners prefer to let a professional clip their dog's nails, but there's no need to be afraid of making a mistake and hurting your canine. A good dog nail trimmer will have an in-built guard that ensures that you know where the blade will be making a cut and some brands also offer a how-to guide, so you can build your confidence before you begin clipping.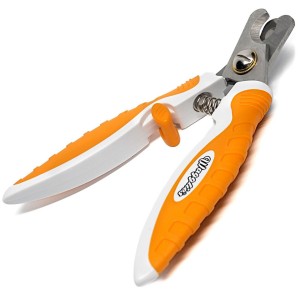 When choosing dog toenail clippers, you should always think about what will be easy for you to use on your dog. Newer designs of dog nail clippers sometimes include a raised or angled tip. If you can get some clippers with this new feature then you should as it offers flexibility and ease of use, enabling you to get to grips with your dog's toenails in no time.
Safety is everything when putting a blade near your pet's paws so it's always better to have two people present when clipping your dog's nails – one to hold the dog still and the other to do the clipping. If you do make a mistake and accidentally make your dog's nail bleed then you should place a piece of cotton wool against the nail to encourage the blood to clot.
With the right advice and instruction, clipping your dog's nails can be a walk in the park. If you're looking for advice about the length that your dog's nails should be before you begin clipping at home then you should speak to a vet or a dog groomer. They will be best placed to advise you on the correct nail length for your breed of dog.
Every dog will react differently to you trimming their nails and you should always try to make the experience enjoyable and relaxing for them. Offer them a treat and words of praise to encourage them to sit still for you. If you're looking to clip your dog's nails from a young age then try to get into a regular routine so your dog knows that nail clipping isn't something that's to be feared.
Don't be afraid of the new dog nail clipping trend, jump onboard and enjoy convenience and a happy home!