Learning how to choose dogs food requires knowledge about commercial foods, healthy food alternatives, and your dog. When you are choosing a brand of dog food for your best friend, you might find yourself overwhelmed by the choices available. The first decision is where to buy the food. Will you be buying dog food from a pet store, grocery store, veterinarian or feed store? Do you make your decisions based on familiarity with name brands, attractive advertisement, the recommendation of your veterinarian, suggestions from friends or do you do your own research?
There is a confusing amount of information about just what kind of food you should feed your dog. Many given brands of dog food offer diets for puppies, adolescents, high-energy dogs, dogs with sensitive stomachs, mature dogs and senior dogs. Some are "grain-free" and some list one or more meats as the "primary" ingredient. Some are labeled as "Premium" which has little real value as a definition on a label. Dog foods can be cheap or pricey. Expensive, with attractive packaging does not always mean better quality.
Another issue is the amount of food you should feed your dog, based on weight and size. This is usually recommended on the dog food bag and can vary greatly, depending on ingredients and caloric values.
What to Ask to Learn How to Choose Dog Food
Questions to be asked are; how is the food formulated and by whom? Where is the food produced? Where are the ingredients sourced? What are the benefits of one particular food over another? Have there been any recalls of the food or any other product produced in the facility where it is made?
According to the FDA, in years 2014-15, there were at least 18 recalls of dog foods and treats. Reasons for recalls range from foreign materials in food, Salmonella, Listeria monocytogenes, insufficient levels of vitamins and excess levels of minerals, higher levels than acceptable of copper and combinations of the above mentioned issues. Many of these products have words like "natural," "healthy" and "premium" on their labels. Words that people associate with food that is beneficial to their dog.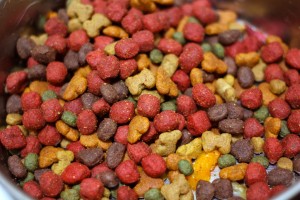 Many "high protein" foods are made up of "meat meal". A product of cooking called "rendering." Basically, this process is a dry meal end-product from stewing ingredients and baking the residue to form into dry kibble. The ingredients used to make this "meat meal" can include many things besides the listed primary ingredients of any particular brand of food. Ingredients like deceased zoo animals, wild animals such as skunks and road kill, euthanized dogs and cats (complete with flea collars), perished meats originally intended for human consumption (including shrink wrap and Styrofoam trays), unacceptable grain products such as corn cobs, mill sweepings and stalks and pesticides and other toxins.
The handling of these ingredients and domestic farm animal "meat by-products" is usually unsanitary and equipment used in "rendering" is rarely, if ever, shut down, cleaned and sterilized. The process basically goes on twenty four hours a day.
Armed with all this information, how do you decide what is the right food for your dog?
The first person to consult is your veterinarian. You dog's doctor may not be able to tell you about how any one food is processed, but he can give you advice on considerations about your dog's general health and age and specific dietary concerns. In the age of internet accessibility, doing diligent research on available dog foods, ingredients and recent recalls is convenient and highly advised.
Happily, there is good news on healthy, nutritious, carefully formulated and ethically produced dog foods available that can make how to choose dog food much easier. Most of these dog food producers are small companies, easily contacted and very forthcoming about their formulations, company history, locations of production, mission statement and often the offer of free samples. This option is often surprisingly affordable and in light of the choices in mass produced commercial dog food and the dangers involved in canine consumption of these products, are usually preferable to consumers that care about the health of their dogs, do their research and come to an ethical, moral decision on what they want to feed their pets.