Making your own dog treat is fun. As you are reading this, I assume you love your dog. Taking care your puppy is a part of loving your dog. Don't get me hooked here because I have something to share for your dog treat and surely do will love it. Because a dog is not like us, they do not want to eat packet food. A study shows that sometimes the unnecessary anger that your dog shows is because of the packet food.

But the exception occurs. So what if your dog does not like the food you make? What can be the real substitute? It's natural if your dog does not like the raw food. In this case, try some of the simply nourish dog food for your dog to ensure proper nutrition. If you never feed your dog simply nourish dog food before, then I recommend to read this article simply nourish dog food review from the blog Pet Care Sunday.
Other than that, making your own dog food will help you find more about dog food. You will know which toxic foods to avoid, which ingredients to use, how much the elements will remain fresh and so on. And ultimately, you will know what your dog is actually eating.
Before you bring your dog on a raw food diet, you should know which foods your dogs can it, which they can't eat. Sometimes it is difficult to understand.
For your understandings, some of the ingredients are bad for your dog.
These are:
Ham Burger.
Onion.
Sugar.
Walnuts.
Chocolate.
Garlic.
Bacon.
Cheese.
Milk.
Butter.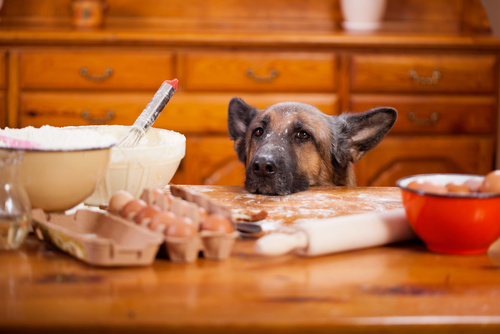 You can give those fruits but do not over feed them. And do not try to taste whether your dogs can eat those or not.
I'll show you two of the popular homemade dog food recipes that you will find convenient and easy to make with the regular ingredients.
1. Heart Beat Health Dog Food Recipe:
Ingredients
2 turkey or chicken hot dogs chopped.
¼ lb ground beef heart.
½ celery stalks chopped.
Use some vegetables like carrot or beans, broccoli, peas or other that's convenient for you.
1 tbsp mixed peppers chopped.
2 cups of cooked rice.
1 cup cooked oatmeal.
2 fish oil capsules.
2 Tbsp yogurt.
Instructions
At first, after all, the ingredients are collected, cook the beef heart and hot dogs in a skillet on medium and make it warm. After that put celery, vegetables and peppers in small amount of water and cook for five minutes in the microwaves for 5 minutes at 60% power.
Then mix all the previously cooked rice and spices with meats and mix them up with 1 tbsp yogurt.
You can precook the rice in large quantity and keep it in a plastic bag in the refrigerator to use on the daily basis. Use some soybeans if your dog prefers it.
2. Funny Bones Dog Treats Recipe:
Ingredients
2 Cups of Wheat Flour.
1 tsp Cinnamon.
3 tbsp Ground Flaxseed.
½ cup peanut butter.
1 medium ripe banana.
¼ cup maple syrup.
2 omegas and 3 eggs.
Instructions
At first after all the ingredients are collected, combine wheat flour, ground flaxseed and cinnamon in a medium bowl. And then preheat your microwaves 300F.
Whisk the peanut butter, eggs, maple syrup and banana together until it gets smooth. Add dry materials and mix well. Take off mixture on a daintily floured surface to around 1/4-creep thickness.
Cut treats with bone-formed treat cutter and place on expansive treat sheet. Heat for 30 minutes. Cool totally on a wire rack. Store treats in the ice chest in a water/air proof compartment or extensive resalable sack. Maybe solidified. If you like the recipes, please let me know in a comment. In future, I'll try to come up with more different recipes like this.