If you are going on holiday, and you want your friendly canine companion close to you at all times, planning ahead and finding the best dog friendly attractions, accommodations and places to visit should be quite high up on your list from the very start.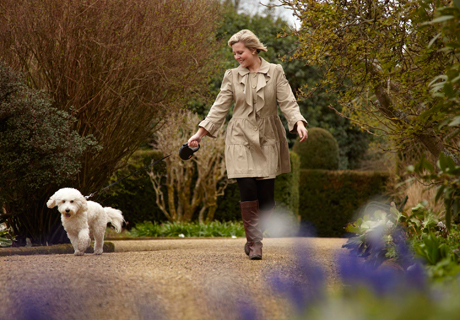 Since there are numerous dog friendly properties and places you can visit, you should never limit yourself when trying to make sure your dog enjoys him/herself just as much as you on your vacation.
Dog Friendly Attractions
It is not difficult to enjoy dog friendly days out in the UK, as long as you know exactly where to go. The UK is home to a variety of different hotels, lodges, self-catering cottages, holiday parks, guest houses and other places and areas where dogs are not only welcome, but also well taken care of in some instances.
The following are only a few examples of just what may be in store for you:
1. Lowther Castle & Gardens in Cumbria is one of the most magical places you can take your dog to, as well as your entire family. A secluded, natural and somewhat mysterious place, the castle's grounds can be a perfect place for children and dogs to roam free.
2. The Penrose Estate located around Cornwall's largest natural lake is another exceptional natural place rich in woodland and farmland areas you can explore with your dog.
3. If you're looking for a dog friendly museum in Derbyshire, there's no better place to visit than the Crich Tramway Museum – a friendly and interesting location to visit.
4. Explore the history of Norwich on romantic getaways and hunting trips though yet another special place to visit with your four legged friend: the Norwich Punting Company.
5. In Lancashire, the World Horse Welfare's centre provides exceptional options for outings with the entire family all year round. This is a great place to visit during school holidays.
These are a few incredibly hospitable and friendly locations you can visit with your dog, regardless of whether you just want to enjoy a few recreational activities or a long term vacation with the entire family.
Where to Find Dog Friendly Attractions
A quick online search can help you find a lot of great locations you can visit, as well as accommodations and special places your dog will be welcome in. There are thousands of listings available, and with the online tools available, it will be easy to filter out only those available in the locations you will be visiting.
There are many other ways to find great dog friendly accommodations and other pet friendly places throughout the UK including a great website called The Dog People – dogpeople.co.uk. Whether you're looking for a pet shop or dog friendly attractions to spend time enjoying on holiday, the places mentioned are definitely perfect for all that, as well as much more.
Also, there is a great website called the The Good Dog Guide – thegooddogguide.com – to get additional information about the best places to go to. When it comes to finding vets, animal medicine suppliers, pet shops, pet training, photography or a myriad of other dog friendly places just waiting for you, your family and your favourite canine companion to visit them.