It feels like Christmas is already here where we live. My wife and I have already started to add to our Christmas decorations. If you are like us? Each year you find a few more decorations to add to your family's collection. A new site was introduced to me just last week. The Country Porch, right away I thought, what a neat store to look around in. Classic Country style decor and collectables. I am sure when you take a look you will find any number of items that you can make a connection with.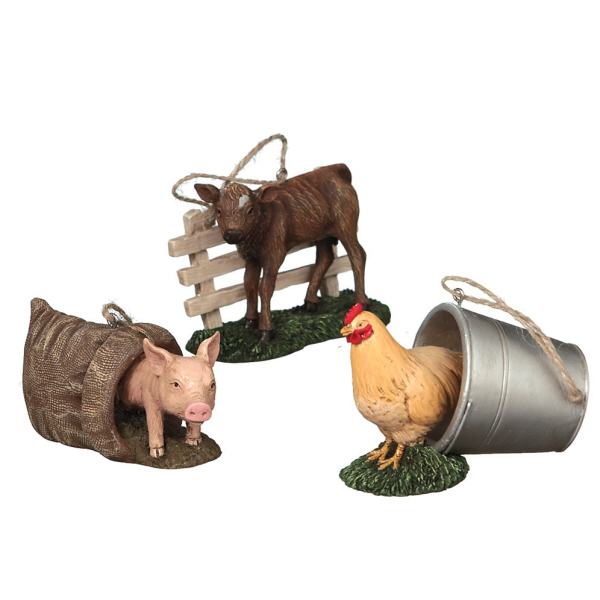 The decorations that stood out to me were the little resin farm animals. There is a Pig, Calf and a Chicken and they come as a set. I thought of my parent's farm and the Christmas gatherings that we had growing up. My mother grew up in a farming family. My Uncle and Aunt had a very large farm that was situated nearly in the middle of where everyone lived. That made it a perfect family gathering place for the Christmas get together's each year. My aunt had this tremendous collection of pig memorabilia and collectables.
Take a look at the detail of the three little farm animals. Each a separate ornament for your Christmas tree. Growing up I remember we had the same ornaments each year for our little tree. I guess the main focus, as a child was the presents under the tree. As I grew up, Christmas became more significant than just presents. I remember the first Christmas when I got my own house. I hiked out into the woods and found a huge evergreen. I cut it down myself and set it up in the living room. It didn't scrape the ceiling like in the movies but it was so large I needed guide lines from the ceiling beam to help it stay upright. It needed decorations.
Being on a budget, many of the first decorations came from the local dollar store. With memories of Christmas' past, I set about to make a collection that I would be proud of for years to come. At the end of that first Christmas, I went around to the various Boxing week sales and gathered up more decorations. The little pricier ones that I knew would look great the next year. By the second Christmas I had enough for two trees. I had it in my head to have different themed trees. For example one year blue then the next could be silver. It was not long until I met my future wife, Catherine.
Together we brought together traditions we each had picked up over time. We incorporated each other's styles and tastes into how we decorated. Together we have a great little collection of special Christmas items. A number of our favorite items have memories centering around our little beagles. They are like our little kids, full of personality and energy. We had so many decorations, more then a single tree could hold. We now have three artificial trees that will get decorated, as we get closer to Christmas. Each one is of a different size. The smallest, is a desktop white tree no more then eighteen inches tall. The second I found in one of those after Christmas sales. It is a white tree standing about three feet tall. The main tree is six and an half feet tall and is the traditional evergreen style.
When I saw the Farm Animal Pig Calf Chicken Scene Christmas Ornaments, the memories of those family Christmas' came right back and when I look out our window right now the snow is falling again. I encourage everyone to take a look at the online store The Country Porch. If you have not started your Christmas gift purchases? There is no better place to start looking. There are no generic gifts here. Unique classic décor with a country free. Now's the time to order, so your special selections reach you before your family Christmas gatherings.
I am so glad I was directed to this site. It really did get the Christmas memories flowing. I know for my wife and I online shopping definitely helps for our busy schedule. How about yours?